Best Sellers Gifts and Gift Baskets
Best Sellers Gifts and Gift Baskets are here for you to discover.
Assorted Chocolate Lover's Gift Basket

$

76.95

Eat Shriek and be Spooky – OUT OF STOCK!

$

38.95

..Best Wishes

$

99.95

A Cozy Christmas Wish

$

157.95

A Cut Above – Gourmet Cheese Basket Medium

$

198.95

..Golden Greeting – Lavishing Celebration Gift Basket

$

285.95

Country Gourmet

$

222.95

A Touch of Heaven

$

111.95

Farmer's Bounty

$

172.95

Cheese Lovers Favorite

$

157.95

A Cut Above the Rest – Gourmet Cheese Basket Large

$

318.95

A Cut Above Gourmet Deluxe

$

379.95

Fruits Cheeses and Sweets

$

199.95

7 Star Treatment

$

179.95

Bunny Delight

$

86.95

Made in Canada Gourmet

$

195.95

..Stars In The Sky

$

195.95

Cheese and Cheese Pleasers

$

129.95

A Reindeer Delivery – Tower Box

$

134.95

Apple Chutney and Cheese

$

103.95

Healthy Pampering Fruit Basket

$

122.95

Cheese Board Delicatessen

$

111.95

..Oh those good old Christmases

$

149.95

A Radiantly Elegant Gift – 48 Ferrero Rocher

$

309.95

Coffee Break with Tim Horton's

$

168.95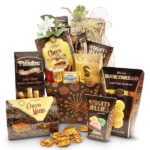 Need an idea for a gift and don't know what to get? Discover the Best Sellers Gift Baskets and Gifts, gourmet, cheese, chocolate, coffee, gift tower. Our customers' currently the most favourite gifts and gift baskets. Find out why they love to send these gift to their most important friends and family. Discover all the 25 gifts for your perfect occasion. These decadent customer favourites make wonderful gifts for any recipient. Send the best seller gift baskets and gift for any occasion: birthday, get well, thank you, sympathy, Valentin's Day, Easter, Mother's Day, Father's Day, corporate. Be sure to include your thoughtful gift message that ships alongside your gift basket. We can send these wonderful best sellers gift baskets to all over Canada and USA. They will sure be impressed with your wonderful gift and your thoughtfulness in remembering them and their occasion.